Sarasota, Florida & Statewide
College Tennis Recruiting Videos
Imagica offers creative and affordable college tennis recruiting videos for aspiring college bound junior tennis players. We serve Florida's Gulf Coast and throughout the state of Florida. We provide both quality still images and video. No two promo reels are ever the same.
WHY A COLLEGE TENNIS RECRUITING VIDEO?
Each college coach has different criteria for their recriting process and place a certain weight on a variety of factors. Do you absolutely need a video, certainly not! A video however is a fantastic door opener and will definitely help you stand out if you are not personally familiar with the coaching staff of a particular institution.
Here is a good clip on YouTube about what some coaches have to say about College Tennis Recruiting Videos. In addition, here is another good page with lots of information including lists of D1, D2 and D3 schools. You can view it here.
What a good video should include
In short, each video should be taylored to the specific strengths of the athlete. No two coaches have the exact same criteria as to what they are looking for. In my experience here is the process we like to follow unless a particular coach sends some specific requests to include in the mix.
The target length of a video is 10 minutes. Some guidance says shorter but I've never been able to show everything in the five minute range and I've been asked for more footage on occasion with reels edited down to that length in the past.
We get there by shooting about 1.5 hours of footage highlighting forehands, backhands, serves, volleys, footwork, movements and point play. But for the coaches who prefer a short summary, I like to load a good variety of stroke production into the first minute to intice them into viewing more.
I also like to have a brief introduction by the athlete, name, DOB, residence, where you train and when you graduate so the coach knows how you sound. This is psychological by enlarge. A good team member should be engaging and communicate well with coaching and team mates. I don't like to overproduce a video either, that's trying too hard and sometimes it looks as if you are hiding something.
The reality is most videos are often an after thought, so they are shot in one session. Usually with a peer (hopefully of equal or better skill) as a hitting partner or coach if necessary. In a perfect world, its good to also include some footage from an actual tournament or high intensity liveball points. This speaks vollumes to a coach although now a UTR vallidates much of this. You may consider trying to capture some prior to this session even if its jsut on your phone or GoPro.
Tennis recruiting videos include:
For rally play we include:
forehand and backhand strokes
forehand volleys and backhand volleys
overheads
20 serves, 10 from each side of the court
10 serve returns, 5 from each side of the court
Point play, or match footage should highlight:
Speed, agility and endurance
Point set up and follow-through
On-court presence
Pace of play
Then we finish with a thank you and some contact information. I can post and share this video to my YouTube channel or you can download from DropBox and post to your own file sharing service. Either way you will be sharing a link rather than sending the video as the file size will be WAY TOO LARGE as an attachment.
These videos are also a nice keepsake for all the hard work a parent has put into their Junior's tennis and most videos also include some still images as well as they are shot for the intro or "overlay" image at the beginning.
Price: $485
Perry Johnson
Photographer, Graphic Designer, Marketing Strategist
Perry Johnson honed his photography and design skills at L'Ecole des Beaux Arts in Toulouse, France. He has worked as a commercial photographer and graphic designer for over over 30 years as both a freelancer and within the structure of major marketing agencies. 
Perry is also an avid tennis player, former USPTA pro and coach who's own son played D-1 College Tennis. He really understands the game and the tennis recruiting process first hand.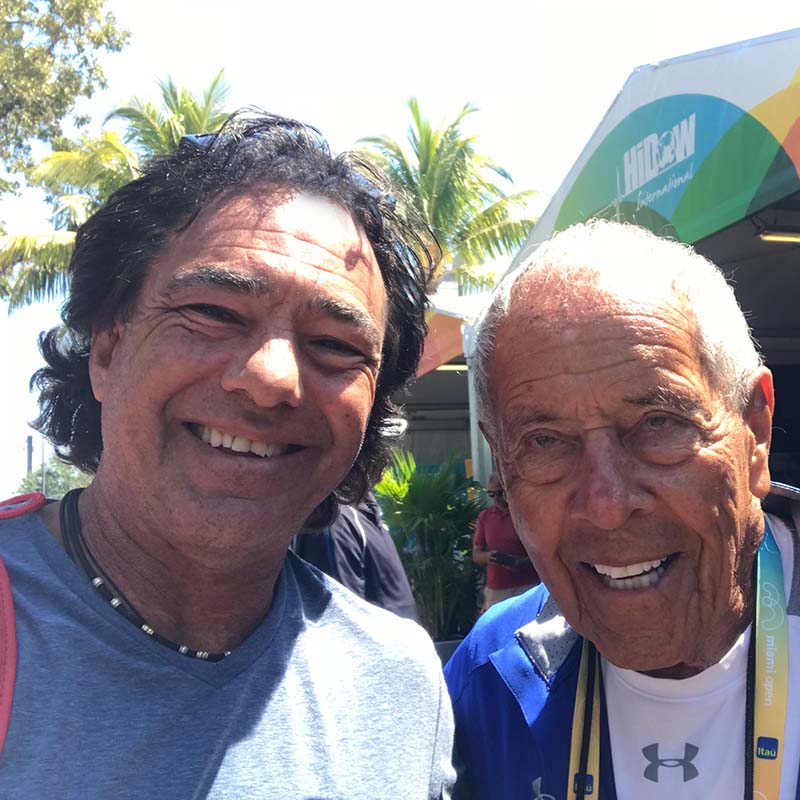 We are always up for a cudos or two, many thanks to all the great business Imagica has the honor to work with…
Perry did an amazing job with my son's college tennis recruiting video. He was able to offer great feedback and highlight my son's strengths while showing some of his personality at the same time. He came highly recommended by his coach and many parents in the Sarasota and Bradenton, FL area. This will also make a great keepsake for us at this milestone. We look forward to having Perry shoot our son Max's recruiting video next year.
"Perry has helped a lot of our athletes with the recruiting process. He really understands how to highlight the strengths and bring an added dimension to the video. I get a lot of good feedback from the coaches who contact me for more information or to schedule a visit at the academy…"
"The video gave my son lots of confidence contacting coaches especially with quick responses and good feedback right away. It's really a great way to open the door. I like how they can put a name with a face, not just a thumbnail image with some statistics. Finding the right program has to be more than that. This is a nice souvenir as well as it marks another benchmark for sure…"
"This was a very useful tool to send out to a variety of programs and it brought some great opportunities to Fin even from schools we had not initially considered. He ultimately ended up further from home than we thought but Montana was an excellent fit for him and he got lots of play his freshman year. Recommended to all recruits because its not just UTR. It really helped personalize the experience. We got nice comments from everybody"
Feel free to reach out anytime.
Tell us a little about your video project: