ROSE QUARTZ & SERENITY
PANTONE 13-1520 & PANTONE 15-3919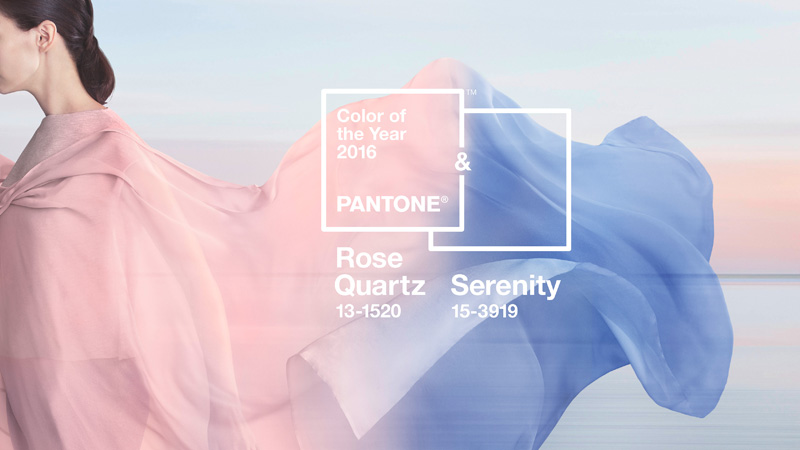 Pantone®, an XRITE Company, released their 2016 Color of the year. I always like this event even if it is a little self serving because they have been a part of most every designers life since art school. Pantone serves as the de facto leader in providing color standards that transcend most all industries including manufacturing, printing and reproduction. If you watch close, you will find their selections used throughout the year and beyond and you would be surprised at how many companies follow their lead. The image I used in this post was a photo I shot specifically for the cover of a major project this year. Seems I was ahead of the curve this year.
WHAT IS THE PANTONE COLOR OF THE YEAR?

A symbolic color selection; a color snapshot of what we see taking place in our culture that serves as an expression of a mood and an attitude.
For the first time Pantone introduces two shades, Rose Quartz and Serenity as the PANTONE Color of the Year 2016. Rose Quartz is a persuasive yet gentle tone that conveys compassion and a sense of composure. Serenity is weightless and airy, like the expanse of the blue sky above us, bringing feelings of respite and relaxation even in turbulent times.
IN DETAIL
A softer take on color for 2016: For the first time, the blending of two shades – Rose Quartz and Serenity are chosen as the PANTONE Color of the Year
As consumers seek mindfulness and well-being as an antidote to modern day stresses, welcoming colors that psychologically fulfill our yearning for reassurance and security are becoming more prominent. Joined together, Rose Quartz and Serenity demonstrate an inherent balance between a warmer embracing rose tone and the cooler tranquil blue, reflecting connection and wellness as well as a soothing sense of order and peace.
The prevalent combination of Rose Quartz and Serenity also challenges traditional perceptions of color association.
In many parts of the world we are experiencing a gender blur as it relates to fashion, which has in turn impacted color trends throughout all other areas of design. This more unilateral approach to color is coinciding with societal movements toward gender equality and fluidity, the consumer's increased comfort with using color as a form of expression, a generation that has less concern about being typecast or judged and an open exchange of digital information that has opened our eyes to different approaches to color usage.
ROSE QUARTZ & SERENITY COLOR PAIRINGS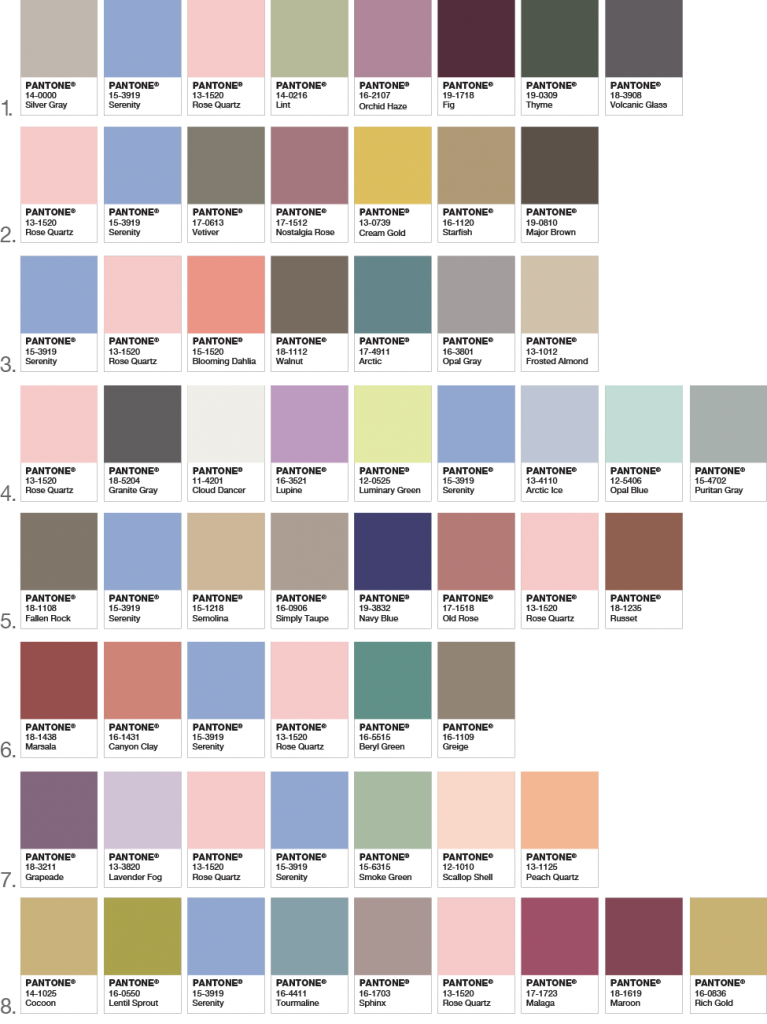 Whether in soft or hard surface material, the pairing of Rose Quartz and Serenity brings calm and relaxation. Appealing in all finishes, matte, metallic and glossy, the engaging combo joins easily with other mid-tones including greens and purples, rich browns, and all shades of yellow and pink. Add in silver or hot brights for more splash and sparkle.
PREVIOUS YEARS COLORS: