We could all use a good Margarita right now!
I love everything about Mexico – the people, the culture, the work ethic, the language, the food and for sure a good Margarita. If ever the world needed a good margarita, it is Cinco de Mayo 2020. So breaking professional tradition on Imagica's Marketing themed Blog, I'm sharing a great Skinny Marg recipe with you as I'm so excited about having one tonight.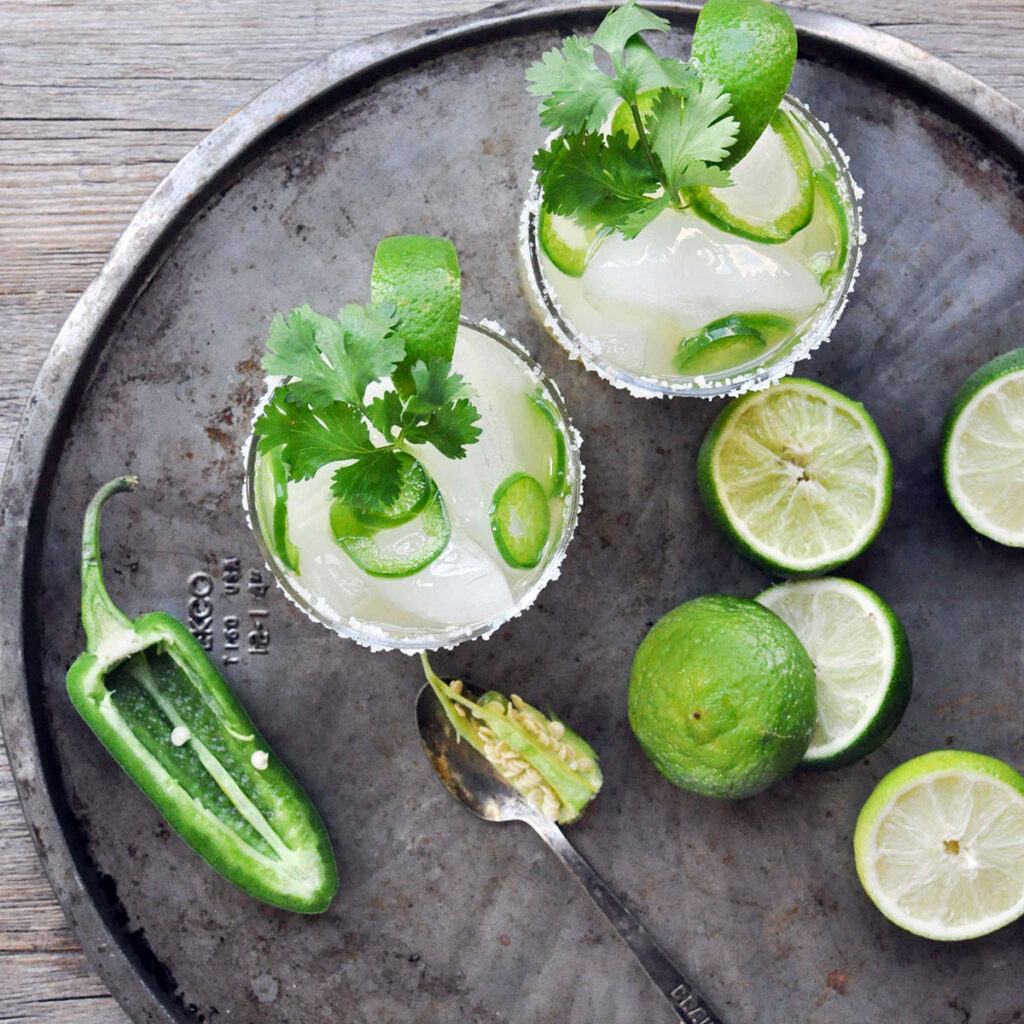 So, what makes this jalapeno margarita 'almost-good-for-you' or 'skinny' you might ask?! Instead of using a sugar-laden sweet and sour mix, we combining SIMPLE, good-for-you ingredients to make this put you in a tropical mood even if you aren't in Florida or Mexico. Best part? How margaritas are authentically made – fresh lime juice gets the job done like no sweet and sour mix could ever do! In fact, you'll forever be a snob.
To add a little sweetener we use Agave, while still a sugar, agave actually promotes our health rather than making you feel sluggish and funky the next day. Essentially, this skinny margarita recipe is the best of both worlds: authentic + better-for-you!
Jalapeno Margarita Ingredients:
This masterpiece of a cocktail is made possible by a small, but powerful list of ingredients:
FRESH lime juice, silver tequila, agave, and some jalapeno + cilantro. The cilantro is optional cuz you are either a fan or you are not.
Agave – it's not only a delicious sweetener, agave also plays host to a wonderful range of natural enzymes that help promote our health!
Silver Tequila – silver tequila is a bit more neutral than many gold tequilas, which makes it perfect for mixing into margaritas. 
Fresh Lime Juice – unless you're purchasing lime juice that was squeezed THAT MORNING from a Whole Foods, you absolutely must juice your own limes. Lime juice concentrate and lime juice mixers contain a whole slew of artificial ingredients that makes for a drink that is miles away from it's more delicious, freshly squeezed alternative.
Jalapeno + Cilantro – um, because they're delicious. Sure the jalapeno and cilantro offer a tiny punch of additional vitamin/minerals, but they're really just included for flavor and pizazz. We all need a little pizazz right now!
INGREDIENTES:
1/2 cup fresh-squeezed lime juice
1/2 large green jalapeno pepper, de-seeded and thinly sliced
4 ounces (1/4 cup plus 2 tablespoon) silver tequila
2–4 tablespoons honey (sweeten to your liking)
2 tablespoons sea salt
2 lime wedges for garnish
2 sprigs cilantro for garnish (optional)
INSTRUCCIONES:
In the bottom of a pitcher, muddle the jalapeno slices with the lime juice. 10-12 presses with a muddler or back of a wooden spoon will do!
Add the tequila and honey, stir to combine thoroughly – or until all the honey is dissolved.
Pour the sea salt in the bottom of a small bowl. Dip the top of each glass in the margarita mixture, let it drain off, then press the top of the glass into the bowl of salt. Gently tap the glass with your hand to knock off any excess.
Fill each glass with fresh ice and pour in the margarita mix.
Garnish with the fresh lime and cilantro.
SALUD!
NOTAS:
For a less strong margarita – you can top off your drink with sparkling water like topo chico.
For a slightly spicy margarita, remove the seeds from the jalapeno. For a spicier option, muddle the seeds then strain them out. You can also use honey in place of the agave to sweeten this recipe!