Considering your business, it's hip to be square
For those of you that are unfamiliar with Instagram, it's an online mobile photo-sharing, video-sharing and social networking service that enables users to take pictures and videos, and share them on a variety of social networking platforms, such as Facebook, Twitter, Tumblr and Flickr. Instagram is growing the fastest of all social media sites worldwide, increasing its active user base by 23% in the last six months. If you are already using social media in your marketing and not using Instagram then you are really missing something.
What I like most about this platform is the high degree of engagement if offers. Personally it's my very favorite social app. The best thing about Instagram as it relates to your business is since it is so visually based, you can test concepts and offers quickly and on the cheep before you go into more expensive local, regional or even national initiatives. Know also that most users use this app on their phone or tablet and not desktop as there really is no desktop functionality. As of July 15, 2015 overall image size when uploaded is 1080px by 1080px for best viewing on Retna or High Res mobil displays but rendered at 640px by 640px.
Here's a little Instagram background:
The distinctive feature is that it confines photos to a square shape, similar to Kodak Instamatic and Polaroid images, in contrast to the 4:3 aspect ratio typically used by mobile device cameras. Users can also apply digital filters to their images via the Instagram app. The maximum duration for Instagram videos is 15 seconds but most posted are usually much less.
Instagram was created by Kevin Systrom and Mike Krieger, and launched in October 2010 as a free mobile app. The service rapidly gained popularity, with over 100 million active users as of April 2012 and over 400 million today. Instagram is distributed through the Apple App Store, Google Play, and Windows Phone Store.Support for the app is available for iPhone, iPad, iPod Touch, and Android handsets, while third-party Instagram apps are available for Blackberry 10 and Nokia-Symbian Devices.
The service was acquired by Facebook in April 2012 for approximately US$1 billion in cash and stock. In 2013, Instagram grew by 23%, while Facebook, as the parent company, only grew by 3%.
If you are already using social media but not Instagram you're still half way there. Major brands and companies large and small are using Instagram already and more are starting each and every day.
Who's using Instagram?
Well about 300 million monthly users worldwide or about 20% of all internet users. That would be about 80 million in the U.S or about 28% of the total U.S. population. The demographics are split pretty equally at 51% of users being male and %49 being female. One important thing to note similar with other forms of social media is that it is reported that 90% of all Instagram users are younger than 35 years. This is important if you want to dive in both as it relates to your content but also to your delivery. A random sampling of my associates would pretty well confirm that statistic. The parent company, Facebook transcends the age spectrum much more evenly and perhaps is skewed to older users. Know too that content quality is very high on Instagram so bad photos or layouts are punished much more so than say Facebook.
For lots of great Instagram statistics visit this link:
http://expandedramblings.com/index.php/important-instagram-stats/
Want to get started?
There is lots of information for you online for sure, but before you dive in, open up an account yourself and see how this addicting form of social media works. Then, hunt for some of your competitors or categorically similar business and see how they are using this platform. Look at some of the other businesses you personally use too, like local restaurants or stores. They also offer sponsored ads like Facebook.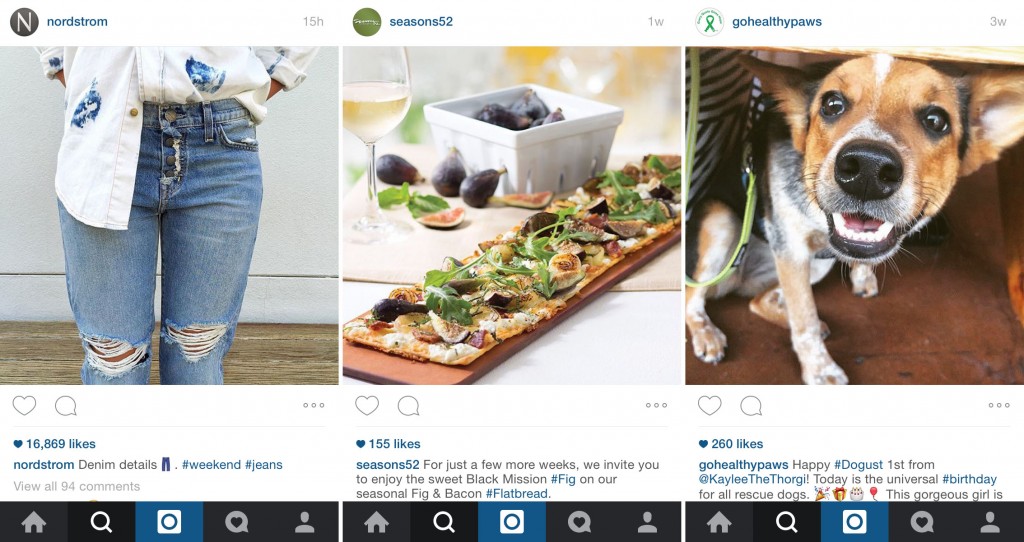 Here are some tips to consider as recommended by Instagram for business when you start:
1. Start with clear goals
Consider how Instagram fits into your overall brand marketing strategy. Is your objective to increase awareness, shift perception, or reach a new audience?
Pick a goal or two that can be achieved by connecting with Instagram's highly visual and creative community.
2. Choose themes to tell a cohesive story
Choose story lines that are authentic to your brand and are best conveyed through captivating imagery. Create posts that follow these themes for a diversity of content that also remains consistent over time.
3. Take the time to create high-quality content
Work with your brand or creative team to produce images and videos that are well-crafted and feel at home on the platform. Or, if you're a one-person shop, take some time to learn from other brands and popular Instagrammers and follow their lead.
Other Tips for Getting Started
Account Name
Choose an account name, ideally your business name, that's easily tied to your brand.
Profile photo
Simple is best! We recommend using your brand's logo or a graphic symbol. Keep in mind it will be cropped into a circle and appear as a 150 x 150 pixel image (that's pretty small) on most phones.
Text
Keep captions short and fresh. Incorporate a few hashtags (we recommend a max of three so they don't detract from the simplicity of the post). Ask questions to engage people.
Commenting & liking
Use hashtags, location and Photos of You to find others' images of your brand. Engage with them by liking and commenting on their images.
Tagging
Include the location of your photo or video when it helps tell the story of the image. Use the Add People feature to tag accounts in your image when they will help you reach a broader audience.
Image tools
Edit your images with filters and other tools available in the Instagram app. These effects give images that unmistakable "Instagram" look that people respond to.
Image subjects
Post photos and videos of beautiful and unexpected moments that also feel authentic and immediate. Whether your subject is a person or an object, capture it in a context that gives a sense of your brand's identity or point of view.
Have questions about Instagram or how you can use it in your business, contact Perry at Imagica at (941) 350-9064 any time for a quick and free initial evaluation.